Artist Notes:
I was born in Arizona. After four years of desert heat and beauty, my family moved to a rainy climate in Tacoma, Washington.
We had a painting of the desert as a memento, while I grew. After my father and mother died, my sister Krista got that painting, I got the frame. Working slowly, from time to time I put another painting of the desert in that Southwest frame.
I gave the painting to Marissa and her husband Keith.
Now I have the frame again!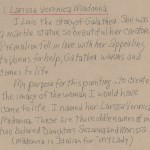 Details:
Boyd Barnette, Morning in the Painted Desert, ca. 2009. Acrylic on canvas, 24 1/2 x 19 inches.
---
<
Buy Prints: