Artist Notes:
Prodigy: Shining evidence for the survival of consciousness.
A wonderful player. Passionate with purity of intonation. Connecting notes on the page with pulse of the heart. Listen to her play Bach written for solo violin.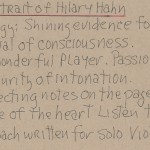 Details:
Boyd Barnette, Portrait of Hilary Hahn, ca. 2006. Oil on canvas, 48 x 36 inches.
---
Buy Prints: