Artist Notes:
While making sketches of my lovely friend who was in and around the waterfall one sweet autumn morn, her laughter and the chatter of the water awakened the local sleeping flora. There was an outpouring of love and protection for her, coming from what I can only call "Sisters of the Forest".
I was there, yet somehow not included, or even noticed.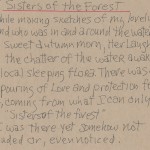 Details:
Boyd Barnette, Sisters of the Forest, ca. 1999. Oil on canvas, 48 x 36 inches.
---
Buy Prints: